One of the most annoying things about traveling around the world is visas. Some visas are really easy to get but others can be a pain in the ass. There are countries I still have not been because of the visa restrictions. Although lately it was my 4th trip to Vietnam the hassle to get a visa on arrival in Vietnam still annoys me. Although over the last years it got easier and easier.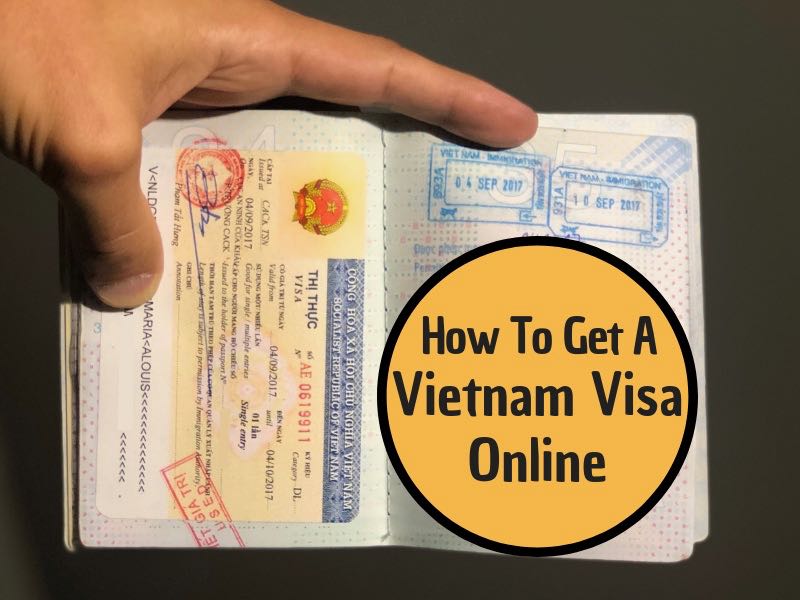 To help you get your Vietnam visa sorted I wrote this blog post to help you out. Because when you google for information about getting a visa for Vietnam, it is like a jungle of information and mostly everyone ranking on Google are travel agencies to lure you into buying their visa approval letter, one of the requirements you need for a visa on arrival in Vietnam.
Getting a Vietnam tourist visa is just as much a jungle to get through as finding the best sim card for Vietnam. Read all about it in my article.
How to go around Vietnam
Unfortunately I only found out about 12Go Asia on my 3th trip to Vietnam. Here you can find the best domestic flight deals, bus schedules, train tickets and more. When you use the search engine below they list you all the available options including prices, trip durations and reviews of the companies.
Vietnam Visa in 2019
On my first trip to Vietnam getting a visa was rather complicated, but luckily things changed a lot over time. Nowadays there are even about 40 countries that don't even need a visa anymore, included are countries like: UK, Germany, France, Sweden, Spain, Italy. These countries can travel to Vietnam visa free for up to 15 days, see the infographic below.
Note that with this visa you must be able to present on onward ticket out of Vietnam upon arrival!
Unfortunately Dutch passport holders still need a visa in 2019. But the policy to get one got much easier because of the introduction of the e-visa for Vietnam.
When traveling to Vietnam don't forget to visit Phong Nha-Ke Bang in the Quang Binh Province, one of the best things to do in Vietnam. Only discovered about 15 years ago in the thick jungle, including the biggest cave in the world!
E-visa Vietnam 2019
Almost all major Western countries can apply for an e-visa on arrival for Vietnam in 2019 (see the above map). All of Europe, except Belgium and Portugal, Australia, India, USA, Canada and many Eastern European countries.
Applying for a Vietnam e-visa is pretty straight forward and easy to arrange online. Click here for the official government website.
On their website you simply follow the instructions, upload your passport page, pay the Vietnam visa fee of $25 and within 3 working days your application will be processed. Easy right?
Note: they will ask for a entry gate and exit gate, but from experience I know that this is not really important. In 2015 I traveled over land and my exit gate was not as stated in my visa application, but no one cared. Still be as accurate as possible.
The same for the requirement of having a flight out of Vietnam. Not needed when you apply for an e-visa, only for those that can can enter Vietnam visa free for 15 days.
Vietnam visa on arrival in 2019
If you are eligible for getting an e-visa for Vietnam, then I would suggest you to do so and not go for a visa on arrival. The e-visa is cheaper and less hassle!
Anyway if you opt for a visa on arrival in Vietnam you can do so at the VOA counter at all the major international airports. Basically you need a Vietnam visa approval letter and this you will have to buy either online or get send to you by the hosting party in Vietnam.