Vietnam isn't always topping the bucketlist of the southeast Asia traveler. With Thailand, Cambodia and Laos in its back garden and the beautiful islands of the Philippines just offshore there is fierce competition. However, traveling to Vietnam is beautiful in its own and has a lot to offer.
1. Is it safe to travel to Vietnam
Generally spoken one should not have any problems when visiting Vietnam. The most common threats are road accidents, theft and in a rare occasion snatch and grab. Just always make sure to use common sense. This sounds really obvious but I have seen so many ignorant tourists in those 7 years I'm now traveling around the world.
2. Do you need vaccinations for Vietnam
There is no direct need for you to get vaccinations when you visit Vietnam. I have never taken any particular medication for any trip to Vietnam. It is adviced you have the standard childhood diseases shots. Shots against Hepatitis A and B are recommended to have, but aren't needed necessarily. Malaria occurs in Vietnam but very rarely. I have never taken any malaria pills and I have been trekking in the countryside. Some people do, some people don't, but I have never heard someone catching malaria when traveling to Vietnam.
3. What is the best time of the year to visit Vietnam
For a lot of countries in Southeast Asia it is hard to determine, but the best time of year to travel to Vietnam is easy: March and April. Spring gets the least amount of rain and has moderate temperatures. The rainy season in Vietnam lasts from May to October. Mind you that especially the North of Vietnam has distinct summer and winter seasons. Snowfall in Hanoi is very rare, but it has happened before.
If you decide to go for a trekking in Sapa, one of the best things to do in Vietnam, then beware that December, January and February it can be really cold. When you visit South Vietnam there is no need to bring warm clothes as the lowest average temperature in Ho Chi Minh is in December: 27 C / 81 F.
4. Do you need a visa to travel to Vietnam
The visa requirements for Vietnam are getting easier with the years. I remember my first time I had to drop my passport at the embassy for 3 days in Cambodia. In 2013 I already used the visa on arrival and nowadays a tourist visa for Vietnam can easily be obtained online.
Most countries still need a visa though, this in contrast with other southeast asian countries like: Thailand, Malaysia, Singapore, Philippines, Indonesia where you can enter visa free.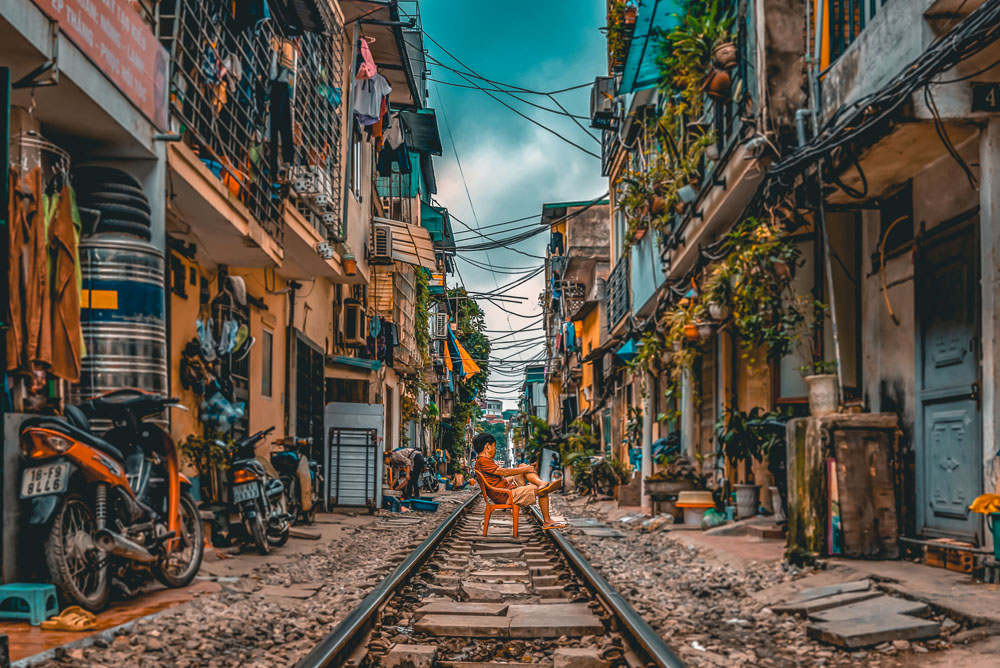 5. How much does a Vietnam trip cost
You can make it as expensive as you wish. There are fancy nightclubs in Hanoi and Ho Chi Minh where a cocktail can easily cost $20, but you can also go local. For your backpacking Vietnam trip you should count on $40 per day, which makes you stay in hostels, eat local food, rent scooters, do sightseeing trip and small tours.
When you travel to Vietnam as a couple you can count the same ($40 per person per day), a mid-range hotel is not much more expensive than $30 a night, food in a little upscale restaurant is about $10 and private tours will cost you about $25 per person per day. In many Vietnam blogs I read that you need a minimum of $50 a day, but with that money you can live large.
6. History of Vietnam is rough
You won't be able to refrain yourself from being fascinated by Vietnam's long and interesting history even if you're not a history buff. It is one of the oldest cultures in Southeast Asia dating back to 2000 BC and ever since it has been influenced by many others: Chinese, Khmer, Indian, Japanese and also Western.
Because of colonization, war eventually rummaged the country, a series of very tragical events in history which are still in the minds of many Vietnamese. For them however, it is much more than a war. Their nation's efforts and determination enabled them to defeat the French and make the Americans retreat and finally become one country.
The country is filled with educational sites for you to learn more about these historic events, the Vietnam war, and even its aftermath. In fact, each city has monuments and museums that showcase the country's deep-seated history.
7. War related tourist places in Vietnam
War Remnants Museum HCMC
In Saigon one can visit both the emotion-inducing War Remnants Museum and the Independence Palace. The palace is also known as Reunification Palace, which is a national historical and cultural relic to the Vietnam War. I am pretty sure the War Remnants Museum makes you speechless. In 2018 I came back here 9 years after my first visit and I walked around for almost 2 hours, reading every photo subscription. These places always give me goosebumps! When traveling to Vietnam definitely put this on your list of places to visit.
Cu Chi Tunnels
Go to the outskirts of Saigon to have an insider look of the tunnel life at the Cu Chi Tunnels, a vast network of tunnels built by the Viet Cong to protect themselves against the invading Americans. The tunnels are considered to have made a great contribution to the victory of the Vietnamese.
Those who aren't claustrophobic may try crawling some small sections of the tunnel network. With my 1.86 meters I can tell you it is a punishment! Visiting the Cu Chi Tunnels is great to learn about the Vietnam War and one of the most interesting places to visit in Vietnam.
8. Hanoi
The streets of Old Town Hanoi made me fall in love with this country even more. It was only on my second trip to Vietnam that I ended up in the capital city. The cosy, but extremely bustling streets of Hanoi always remind me why I love traveling in Southeast Asia so much. It sounds simple but going out at night in Old Town Hanoi is one of the best things to do in Vietnam.
May be it was because of the super cheap Beer Hoi, which costs only like $0,20 per pint sometimes. Not the best beer in the world, but drinking Beer Hoi is something you must try when you visit Vietnam. Fun guaranteed!
9. Ho Chi Minh City
Unfortunately I have been more times to Ho Chi Minh City than to Hanoi, because although I like Ho Chi Minh City I am much more a fan of Hanoi. So if you visit Vietnam and you have to choose between both of them I would say go North and skip Ho Chi Minh City. Nevertheless I always had a great time in this crazy big city where modern life meets the local lifestyle. From Ho Chi Minh it is easy to organize trips into the Mekong Delta.
10. Vietnamese Cuisine
Most people, when they hear Vietnamese food, the first thought that pops into their mind is Pho, a soup broth dish with rice noodles, fresh herbs, and meat. But there is more to Vietnamese food than what you might expect. I had the honor to dine with Australia's Masterchef Luke Nguyen, who is originally from Ho Chi Minh City. Trying his exceptional creations was outstanding.